The Global First 31 inch Inkjet Printing Rollable Flexible Sample
Leading the future of the display industry Guangdong Juhua launches the new products at CES2020. At this year's Global Consumer
Electronics show— At CES in Las Vegas USA, the global first 31-inch
inkjet printing rollable flexible sample debut by Guangdong Juhua, this is
the company following the CES2019 release of the global first 31-inch inkjet printed H-QLED display sample that combines the dual advantages of quantum dots(QD) and OLED, showcasing the technology that leads the industry again. The sample was jointly developed by the National Printing and Flexible Display Innovation Center(based on Guangdong Juhua Printing and Display Technology Co., Ltd, hereinafter referred to as Juhua), TCL Huaxing Optoelectronics and other enterprises。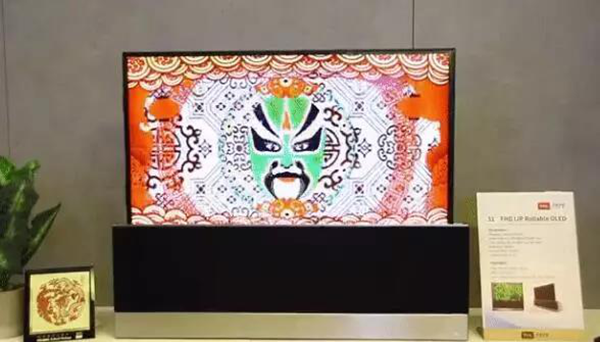 Printed OLED display technology is a new type of display technology that combines printing process with OLED display, compared with traditional evaporation technology, no FMM(fine metal mask) is required, simple device structure and high material utilization, have the advantage with large area, low cost and flexibility, it's important development direction for the future display.
The size for this sample is 31-inch, adopt by oxide TFT backplane driver, top-emitting device structure with an aperture ratio of more than 50%, white field brightness reaches 200nit, the DCI-P3 color gamut of the whole machine reaches 90%(no color film filter), as global first rollable flexible OLED sample based on printing technology. This 31-inch inkjet printing rollable flexible OLED display sample is officially unveiled,extreme play of the charm of large-area printed OLED display combined with flexible technology.
Guangdong Juhua and TCL Huaxing Optoelectronics passed the sample development, gradually conquering flexible backplane technology, the technical difficulties such as high-precision inkjet printing, Mura-free technology, flexible packaging technology and rollable flexible mechanism, laying the foundation for mass production of large-size, printed rollable flexible OLED display technology, provide more new application scenarios for future large-size display products.
Juhua was established in Huangpu District, Guangzhou City in Dec 2014, as a public development platform in the display field, contact with university、sources of innovation such as research institutes, organize scientific research technology, jointly overcome the industry foundation and key technologies, docking the companies and industries, facing market demand and promoting the industrialization of major basic research results.
The sample of technologies that have led the global display industry for two consecutive years, reflects the advanced nature of Juhua's display field technology, it reflects the success of Juhua model. Juhua will not humiliate its mission and make full use of the collaborative innovation mechanism of industry university research integration, concentrate all efforts and focus on overcoming common core technologies in the printing and flexible display industries, open up the intermediate link of materials and equipment from technology research and development to industrial application, make up the short board in the middle and upper reaches of the industrial chain, build a full printing and flexible display industry ecosystem, support the long-term innovation and development of China's new display industry.