Samsung Stopped Existing LCD Panel Production Line in August and Converted It Into a QD-OLED Production Line
Total investment of 147.8 billion!Samsung said to stop the LCD panel and convert to QD-OLED。In recent years, Chinese panel manufacturers stepping in the LCD market, the fierce price war has been extended to high-profit large-size panels, leading to large-size panel prices continuing decline. Meanwhile, Chinese panel manufacturers have also made some breakthroughs in the field of OLED.
In contrast, Samsung decided to stop producing LCD screens for tablets and smartphones in 2015, fully turned to OLED, at the same time, related LCD production lines and equipment also began to transfer. Only reserved the large-size LCD panel production line for TV, Now, Samsung will completely abandon the LCD panel and turn to QD-OLED (also known as QLED).
24th June, according to BusinessKoare reported, Samsung Display said it will no longer delay the production investment plan of QD-OLED, It is expected that the existing LCD panel production line will be stopped in August and converted into a QD-OLED production line.
The informed person pointed out, Samsung Display has decided turn to TV panel production to QD-OLED, only remained the details which need to be discussed。Meanwhile, in order to achieve the QD-OLED production target in 2021, transfer production line of this time will be on schedule.
Industry observer believe that Samsung Display will begin purchase equipment in July, and stop the LCD production line of Tianan city in August, turn it into TV QD-OLED production line. According to understanding, the total investment of this time will reach 2.5 trillion won(2.15 billion US dollars, 14.786 billion RMB), Nearly 3 trillion won (2.58 billion US dollars).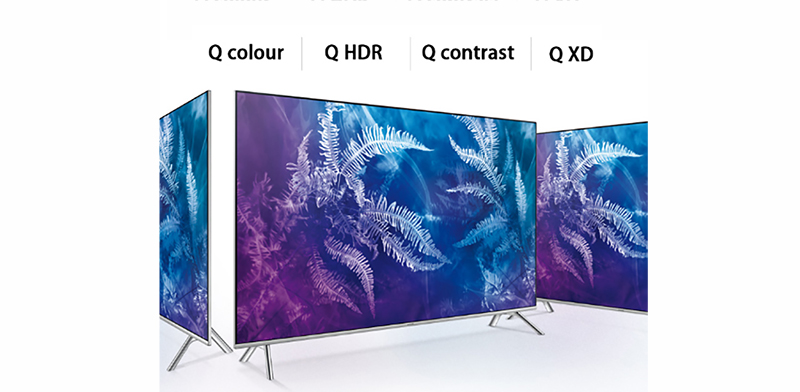 By virtue of QD-OLED, Samsung makes a comeback
Along with the increasing capacity of LG Display WRGB OLED panels, More and more TV brands have joined the OLED TV camp, OLED TVs stand firm in the high-end TV market. Samsung QLED TV also can't resist this trend, the only way to improve the market share by reducing the price.
Meanwhile, Samsung is also catering to the OLED TV market trend.
Samsung Display, which has been researching OLED panel technology, has proposed another OLED compromise solution——QD-OLED. QD-OLED is based on blue light OLED as bottom light, then stimulate RED, Green QDs film, forming Red and Greenlight, finally, together with blue light OLED forming RGB. The blue OLED adopts an evaporate plating technical, and the green and red QDs films adopt a printing process.
Compare with RGB OLED, QD-OLED project only blue light OLED need evaporate plating, reduce the difficulty of preparation, compared with LG Display WRGB OLED, the luminous efficiency higher of Samsung Display QD-OLED. Xu Zheng, a professor at Beijing Jiaotong University pointed out, WRGB OLED is a white light OLED that passes through the color film to get RGB, the preparation is less difficult, but the color film will reduce the light efficiency, so WRGB OLED luminance will be lower than RBG OLED panel.
QD-OLED adopts light conversion with higher efficiency QDs material, after blue light OLED stimulate the QDs film still maintain higher luminance, and blue light OLED part uncovered QD-OLED light utilization efficiency will be higher than WRGB OLED. Besides, In theory, QD-OLED costs will be lower, WRGB OLED has 22 layer
film, QD-OLED only 13 layer film, that means QD-OLED production efficiency will be higher, materials cost lower. DSCC estimate, the material costs of 1 square meter QD-OLED about $26 and for WRGB OLED nearly $95.

QD-OLED not easy, facing four major challenges
Due to QD-OLED used evaporate plating, printing technical, involving
OLED materials, QDs materials, so except OLED's some difficult need overcome, also need to solve the new difficult from printing QDs. IHS Markit shows research general manager Xie Qinyi thinking,QD-OLED exist four major challenges: printing QDs color film, blue organic light-emitting layer evaporate plating and lifetime, metal oxide TFT backplane, packaging process.
If the printing technology is used to produce electroluminescent QDs films, it is difficult to ensure the uniformity of the film thickness, and need to design the circuit for compensating. Xuzheng pointed out, using Green for photoluminescence, the red QDs film adopts the printing technology to reduce the difficulty, it is still difficult to ensure the uniformity of the film thickness. Metal oxide TFT backplane itself is unstable,the phenomenon of color mixing may occur in the process of printing QDs materials on the backplane. And the QDs color film is also afraid of water, oxygen, and air,If the package is not in place, there is a lifetime problem.
It is difficult to ensure the uniformity of film thickness by using a evaporate plating technical to produce large-size blue OLED. And the lifetime of the blue OLED is the shortest among the three primary colors,how to ensure that Blue light OLED has a long enough lifetime, it is also a big test for Samsung Display.
Blue light OLED belong to organic light-emitting material, Most afraid of water, oxygen, need to be sealed, far away from water, oxygen. At present, many OLED manufacturers encounter many challenges in the packaging process. QD-OLED requires two packaging processes, and there is also a good quality test.
If produce 55 inch and 65 inch 4K LCD, adopt a-Si TFT backplane is also available. If produce 8K QD-OLED need adopt metal oxide TFT backplane but compare with LTPS TFT backplane, the stable of metal oxide TFT backplane a little bit bad, not very mature, even LG Display which has already mass-produced WOLEDs, also can not ensure the metal oxide TFT backplane will not occur problems.