On 11 February, Europe's most influential professional audio-visual and systems integration exhibition (ISE 2020) opened at the RAI centre in Amsterdam, Netherlands, more than a thousand companies from all over the world have demonstrated cutting-edge products and technologies.
BOE was present with innovative solutions such as smart retail, smart transportation and smart conferences,Let people feel a new experience of intelligent life.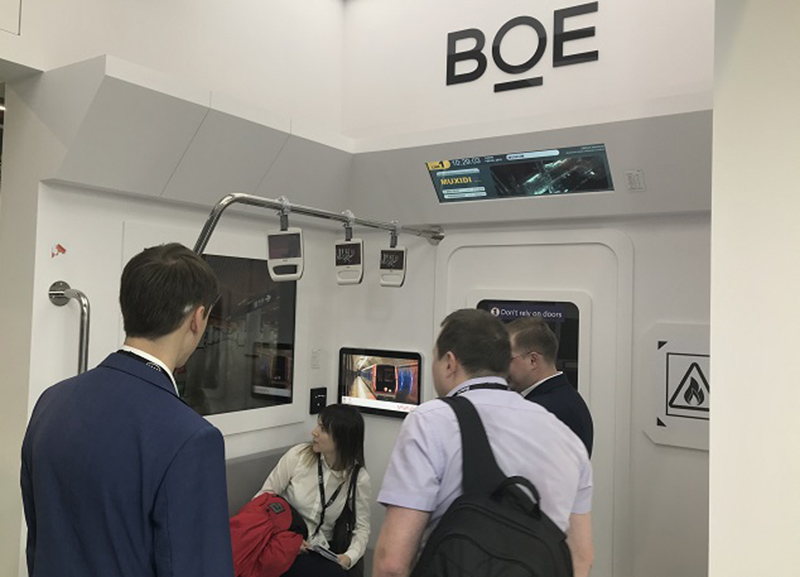 The application of intelligent transportation solutions in life makes people feel the charm of science and technology everywhere.
In the exhibition, BOE smart window which adopts BOE's new technical solution, can automatically adjust the transmittance according to the environment.
Meanwhile, BOE also innovatively multimedia information, site information, business performance display which can be display real-time, as well as energy-saving, environmental protection, timely update advertising handle electronic paper double-sided screen and other products applied in the traffic scene, so that people can experience a smart and convenient mode of transportation.
Currently, BOE's innovative products and technologies have been applied to over 80% of China's high-speed railway lines and the subway lines in 22 cities, and provide products and services for Russia, Italy and other overseas city subway lines.
BOE smart retail solutions attracted many visitors to stop and experience.
The splicing display with a border of only 0.88mm is suitable for multiple strip screens with different scenes, and AI digital signage, BOE has made hypermarkets high-tech,these commercial display solutions instead of traditional paper labels and traditional posters,combined with the background software system, built a set of smart retail solutions.
BOE smart retail solutions not only intelligently recommend product information for consumers, but also enjoy full self-service shopping services, through smart cameras, image recognition technology and big data technology, it can also provide retailers with shelf management, customer flow analysis, data management and other system solutions,while bringing people a new shopping experience, it also makes store management more efficient.
Nowadays, smart office has become a new trend. At the site, visitors can experience the intelligent conference solutions brought by BOE.
BOE replaces the traditional conference seat and door sign with the "e-paper" smart office solution to achieve one-click remote multi-objective intelligent update, reuse, and to reduce the use of paper and energy consumption, so that people can experience efficient and environmentally friendly smart office environment.Meanwhile,BOE's modern conference system can also realize intra-enterprise and long-distance multi-point cooperation and communication, and has wide application space in office, business meetings and other fields.
In the era of internet, BOE is integrating advanced display and sensing technologies into tens of thousands of scenarios, light up our smart life with innovative solutions of the Internet of things and make our future full of infinite possibilities.