14th May at the west time of USA, as the world's largest display and the most representative of the technical vane exhibition——SID Display Week 2019 was solemn opening in San Jose, USA, High-tech innovative products from all over the world have appeared on the scene.
The world's leading technologies and innovative applications such as flexible display, ultra-high-definition display and microdisplay brought by BOE have attracted great attention, let people's feel the charming of advanced technology.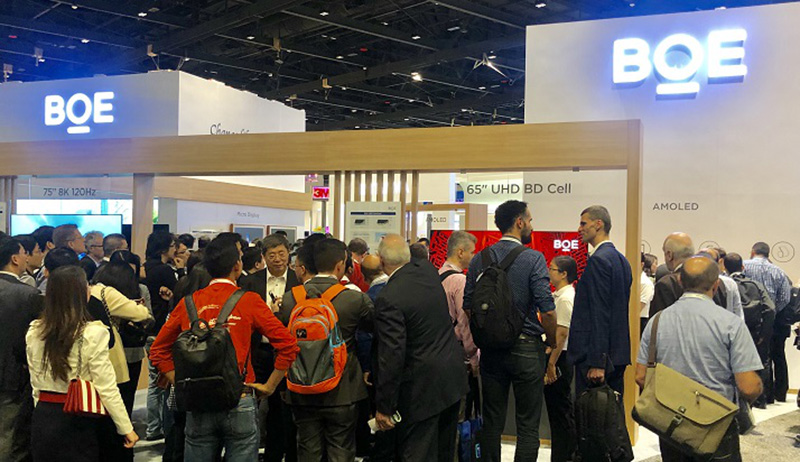 Flexible Display Brings Wisdom Driving Experience
Along with the rapid development of the car networking, the display screen has become an important port for human and car interaction, at the SID2019 scene, car display innovation application has become the focus of the full attention.BOE built a road driving scene by wisdom cockpit with only 0.99mm seams 3×3 splicing screen, let visitors experience the new design of the future car display solution.
In the wisdom cockpit of BOE, integrate with the driving information needed for smart travel with actual scenes through augmented reality technology, head-up display (HUD) can present virtual transmission images, projection the important information such as speed and navigation onto the driver's front windshield, provide intelligent Alize decision reference of the safe driving for drivers.
Meanwhile, BOE used flexible screen instead of traditional liquid crystal car screen, 12.3-inch flexible car triple screen adopts the independent R&D OLED pixel compensation circuit technology by BOE, can effectively improve the brightness uniformity of medium-sized OLED, provide better video entertainment experience for passengers.
In order to solve the pain points in the driving blind area of automobile design, BOE applies the flexible AMOLED screens to transparent A-pillars, rearview mirror field, etc.
The feature of flexible screens which can be curled to perfect fit for the car A-pillar shape, ability to display data in 1 millisecond without delay, through the camera showed the scene on flexible screen which blocked by the A-pillar, thereby eliminating the blind area of view, Rearview mirrors can also be customized according to the internal shape of the car, by using the flexible screen, BOE wisdom cockpit is equipped with a 6.39-inch flexible screen as a built-in rearview mirror, can make the car driving safer even rain and snow whether.
BOE locale also displayed vehicle center control solution which supports gesture interaction, V-shaped curved Mini-LED car display innovation applications. At present, BOE high-end vehicle display screen has begun to supply material to domestic and foreign auto companies such as USA, Germany, UK, Japan, Korea, etc.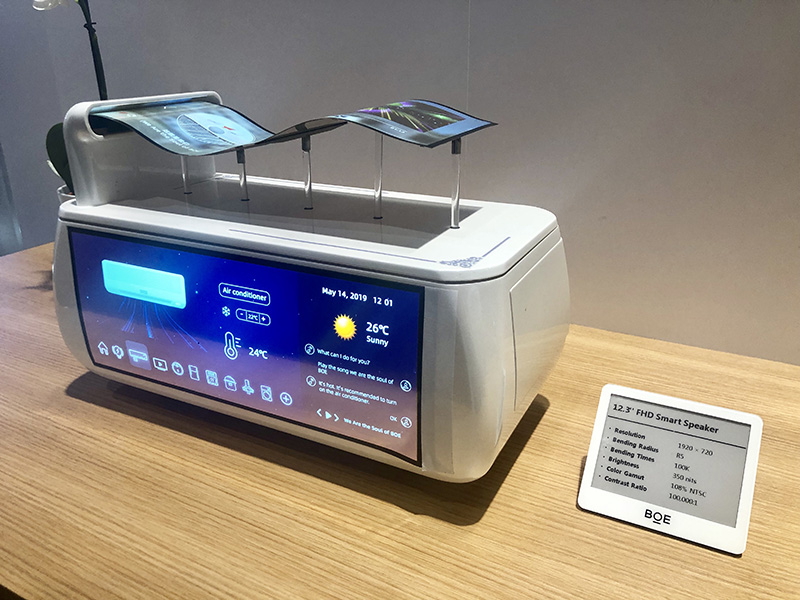 Innovation Display Create More Application Space
In the exhibition scene, a 14inch flexible display screen called Free Elf was attracted many visitors to stop by, although it looks like a hanging picture, but as long as touch the button on the side, the display screen will slowly expand like an electronic scroll, display the picture content clearly.
The other one smart speaker called sound with the rhythm is equipped with a 12.3 inch flexible display screen, the screen can dance with the melody when the music is ringing, let visitors feeling the new audiovisual experience, innovative flexible products have a wide range of applications space in home, art, tourism, and other scenarios.
BOE also bring UHD display solution except flexible display to innovate application. BD CELL ultra high definition display screen with up to million ultra-high static contrast, the surface of picture quality reach 12bit, and the black field brightness is less than 0.003nit, which can clearly restore every color and detail of the picture.
Meanwhile, BOE also showed 8K ultra-high-definition display such as 75-inch 8K 120Hz display, 3.5-inch 8K display, 0.39-inch 8K spliced VR display, etc. BOE is accelerating the promotion of 8K application in many fields.
Besides, BOE adopts Mini-LED technical HDR notebook products, achievable 15.6-inch oxide display with 240Hz ultra-high refresh rate, 55-inch 4K OLED display with inkjet printing technology、simultaneously supports up to 100 touch control Interactive whiteboard, have industry's advanced 5644 PPI's 0.39-inch Micro-OLED AR Innovative technologies and solutions, let visitors to feel the charming of advanced technology.